Welcome to The Acupuncturists
Restoring the balance in your life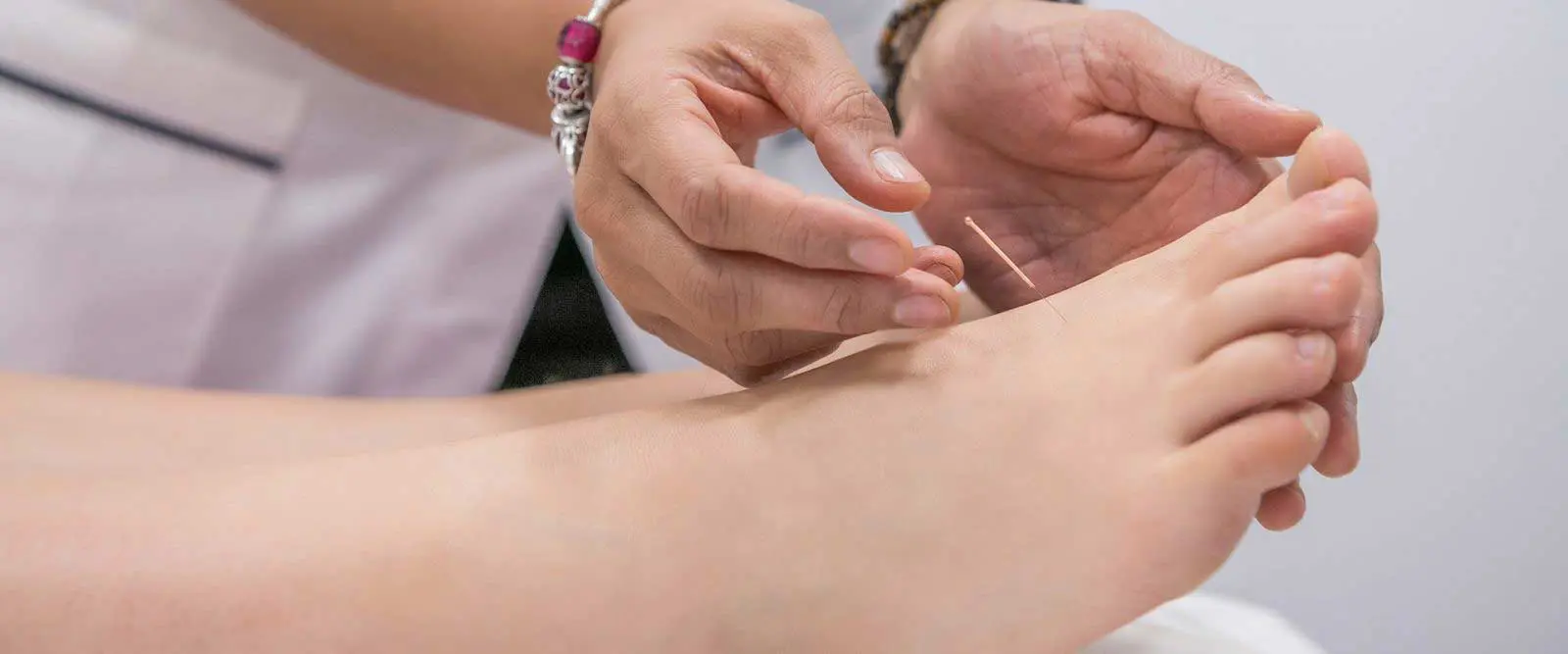 Restoring the balance in your life
Acupuncture Clinic London
Welcome to The Acupuncturists, a leading acupuncture clinic in London offering treatment for musculoskeletal pain, cosmetic acupuncture therapy, fertility issues and specialist auricular care.
Acupuncture may have two thousand years of history, but it's as relevant to good health today as it ever was.
This remarkable ancient Chinese therapy helps to rebalance the body's energy, boosting natural wellness, relieving musculoskeletal pain and improving symptoms associated with anxiety, depression, nausea, headaches and poor sleep.
Now The Acupuncturists are helping people across London to experience the healing power of acupuncture for themselves.
From a comfortable, relaxing and professional acupuncture clinic in London near Harley Street, our therapists bring all their experience, passion and training to their work, helping people beset by pain, discomfort and emotional stress to feel well and enjoy life.
Acupuncture painlessly uses special needles to stimulate the body's natural healing chemicals, triggering a natural rebalancing of energy and wellness to significantly reduce or resolve the symptoms presented by the patient.
The Acupuncturists clinic in London was founded by Archna Patel, who decided to train as in acupuncture care after seeing the amazing benefits of the treatment for herself.
Now Archna's passion for acupuncture has become her life's work and she has made it her mission to help people to feel well, empowering them to live the best life possible.
The central ethos of The Acupuncturists is that acupuncture has the ability to unite the power of the mind and body to promote natural healing and teaches techniques that allow their patients to positively influence good health outcomes.
Dozens of clinical studies have shown an overwhelming benefit of acupuncture in the treatment of:
The therapists working at The Acupuncturists' London clinic are highly trained and specialise in different techniques and treatments that also include cosmetic acupuncture, auricular (ear) acupuncture and needle-free acupuncture.
The clinic also offers complementary massage therapy, either as a standalone treatment or as an integrated part of your acupuncture treatment programme.
The Acupuncturists offer a powerful, effective and pain-free patient experience that ensures complete and total discretion, exemplary professionalism and a genuine passion that shines through in every consultation and treatment.
There are many people living with pain or with a poor level of wellbeing who believe their condition is something they simply have to live with and manage. In fact, nothing could be further from the truth.
If you want to unlock the full healing potential that lies within you, get in touch with us today and find out how treatment at our acupuncture clinic in London can put you on the road to better health and happiness.
Your Health in Safe Hands
Andy Charman
I have been consulting Archna for around 15 years. Her work never ceases to astonish me, and now I find there is no ailment that I would not ask her about. Most entrancing though, is her deep-sourced integrity and soulfulness. I have recommended her work to most of my friends and family and will continue to do so.
Bridget Saunders
I went to see Archna after being highly recommended by my sister. I found Archna's caring and lovely nature made me feel completely comfortable, and I was amazed with the results I got after a treatment with her. As a mum of two my back had taken a battering along with my energy, I'm writing this now feeling like a new woman! So I now join my sister in highly recommending her to everyone!
Bridget Saunders
Peter Levchenko
Archna is an absolutely amazing and gifted acupuncturist. She has treated me for a variety of back, neck and skin conditions, and the results and healing effects on the body have been nothing short of extraordinary. I really like her energy, integrity and commitment to the work that she is doing and would strongly recommend her to anyone seeking a natural treatment to any physical or emotional issue.
Peter Levchenko
Caroline Wilhelm
"Archna is the most professional, knowledgeable and caring acupuncturist I have seen so far. I will get treated by no one else in the future. Archna not only has over 20 years of acupuncture experience, but in addition she is the only practitioner in her field who I have met, who takes a holistic and much more thorough approach for treating her patients. Archna is efficient, to the point, and extremely skilled. I have recommended Archna to several friends, who are all as happy as I am. I cannot recommend Archna enough and wish I had found her earlier! Thank you Archna!"
Caroline Wilhelm
Niamh Watmore
I can't recommend Archna highly enough. It's such a personal experience receiving treatment from her, every time I go I always leave feeling more balanced, calm and centred. I'm also positive that seeing her for the past two years played a part in helping me get pregnant and definitely helped me during pregnancy with my sciatica. She has recently helped me so much with upper back and neck tension and with my hayfever, it pretty much disappears after I see her. She is also one of the warmest, kindest people I've ever met.
Niamh Watmore
Sofiya Varbeva
My daughter has been suffering from hay fever for a very long time and we've tried many different treatments which didn't help but Archna has achieved amazing results with just few sessions only. She is very professional and trustworthy lady and I cannot thank her enough for everything she did for my daughter. Thank you
Ghada Banayoti
"I went to Archna initially with a very painful bursitis which couldn't be treated with physiotherapy apart from steroid injections. She managed to treat my shoulder in a few sessions and I started to feel so much better. What I love about Archna is that she is very professional and she explains exactly what she is doing. She has an amazingly calm energy which helps you relax into the treatment and the session. I am a regular client now as she has helped me with many other issues from digestive issues to tension and even emotional imbalance. I look forward to my sessions as I leave feeling so relaxed and very light which are a result of the acupuncture but also Archna's magical touch and energy."
Ghada Banayoti
Jane James
"Archna has treated me for menopausal symptoms, for shoulder pain and for stress. She is an excellent acupuncturist, highly professional and a warm and caring human being. Having been sceptical at the beginning, I realised quickly that Archna's treatments result in real improvements and alleviation of symptoms. I have total confidence in Archna and recommend her unreservedly."
Jane James
Jerome de Sadeleer
"Sitting in the office all day and working without much movement during the week, my neck and back have bothered me for months. I was recommended accupuncture with Archna and after initial skepticism of needles and acupuncture in general, I made an appointment with Archna. My experience was excellent and she has relieved my of my aches, whether in neck, head, back, hips etc. I am a regular with Archna now and very happy! Highly recommend her!"
Jerome de Sadeleer
Anna Bijak
"My experience at the Acupuncturists was wonderful, every time since I have started seeing Archna over two years ago. She is a fantastic practitioner, really knowledgeable and very focused on providing the best treatment possible. She is very professional and knows how to adjust each treatment so that when you leave you feel much better then when you arrived. She has helped me with stress, back pain, shoulder tension, digestive issues and common cold relief. I would highly recommend Archna to anyone looking to receive treatment."
Anna Bijak
Robyn
"I have been seeing Archna for six months, after struggling with anxiety, stress and difficulties with conception. I was very nervous about approaching acupuncture, but Archna put me at ease within 2 minutes of meeting her. Her calm and reassuring manner helped me to relax, and she went out of her way to make sure that I was always comfortable and felt secure with the treatment options. My appointments with Archna are now little oases of quiet and calm; her treatments dropped my anxiety levels significantly, and I fell pregnant after just a month of seeing her! I truly believe this was a result of Archna's healing and nurturing treatments, as well as her warm and caring presence. Despite reaching my goal of pregnancy, I am still seeing Archna to calm, soothe and invigorate me during this time, she is the best – thank you Archna."
Robyn
John Montovano
"I have really enjoyed my experience going to Archna I was hesitant at first having never tried accupuncture before but have found it to be a very effective compliment to other treatments. Archna has treated my for stress, lower back pain and allergies. I was surprised how effective acupuncture can be and what a wonderful practioner Archna is. The location is very convienent I can go right after work."
John Montovano
Tamara Thompson
Archna is amazing. I've found her treatments incredibly effective and she is super knowledgeable and caring. She is also very much at the forefront of her field and has a wide variety of tools that she brings to her clients. I love working with her and have now come to her for several years. I have worked with other top acupuncturists in London and SF and consider her among the very best!
Tamara Thompson
Jane James
I am very grateful to Archna and the team for developing this method of treatment online. The day after a comprehensive video consultation, I received the Acu Pyramid pads and very clear information about where they would be applied. In the course of a second video consultation, Archna showed me exactly how and where to apply them. It was surprisingly easy, and as they don't pierce the skin, it felt very safe.
As a result of the treatment, I no longer have a pain in my neck and shoulder that has been with me for two months and I have seen a huge improvement in stiffness in one of my joints which had also been problematic for many weeks.
I have no hesitation at all in recommending the treatment and would positively encourage anyone to try it.
Jane James
Tracey O'Connell
Archna Patel is a truly talented and professional acupuncturist. She has treated me successfully for physical issues (foot and back injuries), and also deeper emotional issues (stress, anxiety). The Acupuncturists clinic location near Green Park is super convenient and easy to find. I can't recommend Archna highly enough and only wish I could give her more than 5 stars.
Tracey O'Connell
Cecily Saunders
I couldn't recommend Archna highly enough! I've been seeing her for over a year now – for various reasons – including digestive issues and addiction. Archna is the warmest, most caring practitioner I've ever had the pleasure of knowing. She makes you feel completely at ease in the treatment and with her many years of experience, always knows just what to do. She is an integral part to my recovery and I feel blessed to have her in my life.
Cecily Saunders
Radi Dadi
I'm really well looked after by Archna and feel my needs are being treated with care on a weekly basis. Would highly recommend to anyone!
Radi Dadi
Jeff Smith
I have been seeing Archna since 2017, for injuries, shoulder, neck and back pains and overall health and maintenance. She is very caring and professional toward my treatment, it was great we found her for my acupuncture needs in London. I would recommend Archna for anyone seeking acupuncture treatment. Thank you!
Jeff Smith